Learn HTML & CSS to Build Web Pages – Coding Workshops for Kids
May 13, 2018 @ 2:00 pm

-

June 24, 2018 @ 3:00 pm

|

$245.00
Learn HTML & CSS to Build Web Pages – Coding Workshops for Kids | Ages 7 – 16+ | 7 Week Program | Sunday Afternoon
We will be using the Get Coding book by the Young Rewired State, a worldwide community of digital-makers aged 18 and under.
The Get Coding! book will not only teach you how to code, but also show you how fun and exciting it can be.
Coding is one of the most important skills young people can learn and there's never been a better time to master it.
Together with the Get Coding! book and access to the w3schools.com website, we will learn how to code using three (3) essential programming languages:
HTML, CSS & Javascript are three of the most important programming languages in the world. They are used by web developers to build the websites and web-based apps and games you use everyday.
In the workshops, following the book and using an online HTML, CSS & JavaScript editor, you will learn real-life coding skills you can use to do all kinds of programming.
Importance of Coding / Programming

Computer programming or coding is a crucial skill every child should be learning.
We use computers to solve problems, play games, help us to work more effectively, perform repetitive tasks, store and recall information, create something new, and connect with our friends and the world.
Understanding how to code is empowering!
Everyone can learn to code – it's just like solving a puzzle or a riddle.
Learn to code like a real programmer using text-based language!
---
"My son just loves it!. These are a wonderful set of coding courses for kids. The children are challenged, learn the fundamentals of coding different platforms, come hom bubbling and wanting to do more away from class. The key part of any review is would he go again? Well, he's on his third course. Say no more!' – John, Parent
"Hi Jenny, Zimo loves the computer class and will definitely continue next term." – Yu, Parent
"Thanks Jenny. Anna has looooved her course!" – Tanya, Parent
---
Why kids should learn to code
Coding is fun!
Technology is becoming a part of everyday life. Every company, organisation and cause can benefit from technology. There are apps to help you buy, give, join, play, volunteer, connect, share – just about anything you can imagine.
Instead of just playing games, get kids to make their own game. They can create their own phone app!
With coding, you can bring to an idea to life by programming it on a computer.
When you program, you are taking an active role in technology – you're not just having fun, you're making something fun!
Coding is a Valuable Job Skill
Coding is the skill of the 21st century. Jobs today require more problem-solving ability than ever before, and more and more careers involve technology as an integral requirement.
People who can program – and thus solve problems quickly and effectively – are highly valued in today's world, and they get to do interesting, fulfilling work.
If you can code, you can solve problems.
Problem solvers have the power to make the world a better place!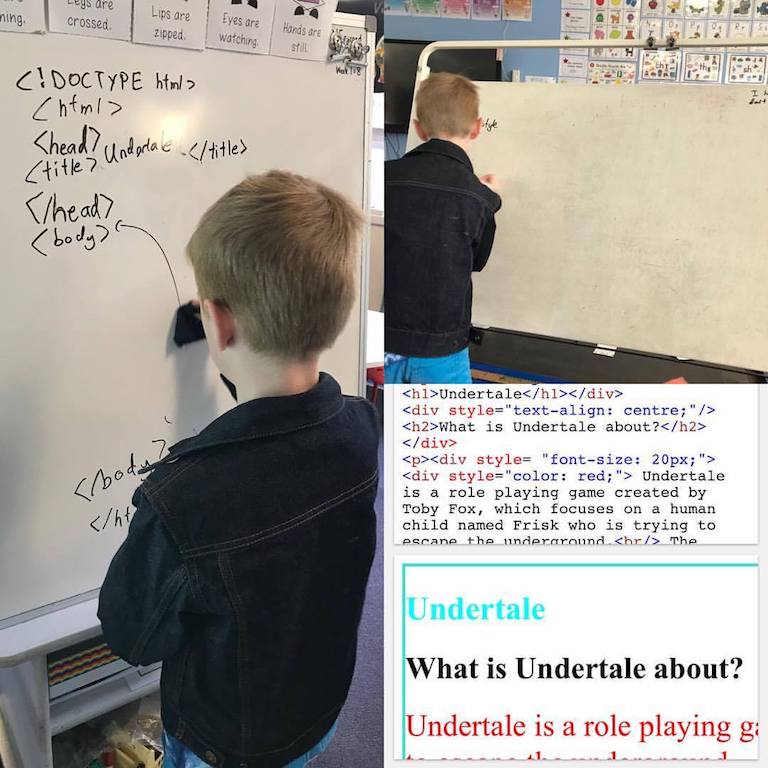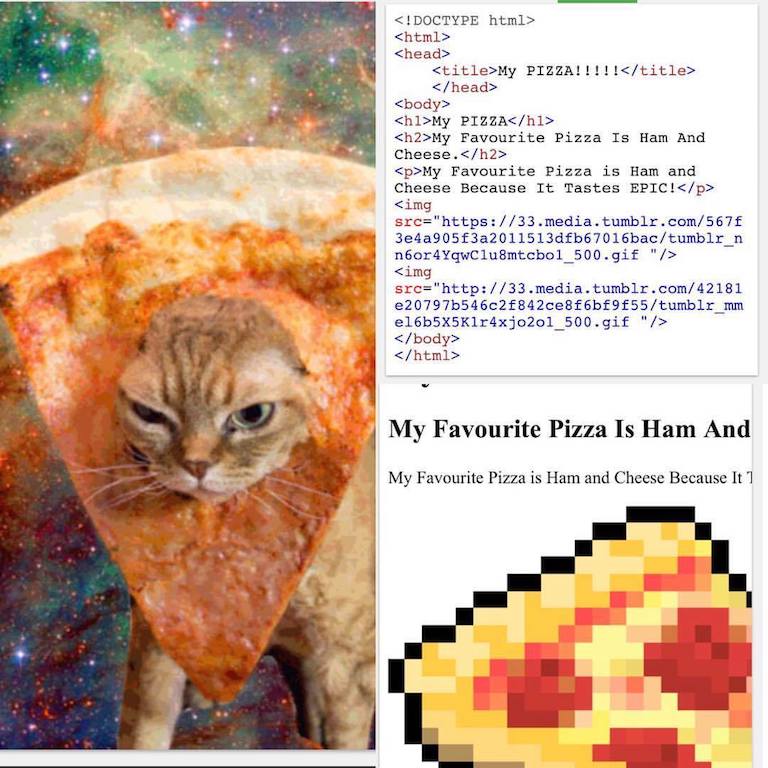 ---
---
Oh, the cool website development skills you'll learn!
Learn how to code in the programming languages HTML and CSS. Start off by learning what HTML is and how it works. Then use HTML tags to create a web page. Learn how to change the way your web page looks by coding paragraphs and line breaks, adding images and dividing your page into sections.
Then learn how you can use HTML with a new programming language called CSS. Change the layout and design of your web page by altering the colour, size and shape of your elements. Finally in the Do It Yourself Task use your new skills to build a web page of your own.
Code Skills:
Introduction
What is HTML?
What is CSS?
What is Javascript?
Files & Folders
Creating a folder
Creating a HTML File
Saving your HTML File
Opening your HTML File
Writing HTML
Learn how to structure a HTML web page and code a simple page with a title and text
Coding Paragraphs & Line Breaks
Use the paragraph and line break HTML tags to create breaks in your web page
Adding Images
Add images saved on your computer or from the internet to your web page using the image tag.
Creating Sections
Learn how to divide your web page into sections by grouping pieces of content together.
Writing CSS
Start coding with CSS by using the style attribute to set a CSS property and value.
Using more than 1 CSS property
Use more than one CSS property at a time to change the design of your web page.
Using CSS Classes & Class Attribute
Create CSS Classes and apply them to your web page using the class attribute.
---
Kids Love Us:
"It is really fun. It improves my coding skills. You should join." – Josh, 10
"I would tell my friends that it is a lot of fun and we get to learn how to code apps and websites."
---
Need to ask anything about our awesome coding workshops?
Call Us: 0428 198 953
Email Us: info@codingworkshopsforkids.com.au
---
Please Note:
All laptops with WIFI are provided.
Attendees limited to a maximum of 12 coders.
We expect all attendees to be attentive and focused on learning coding and not get distracted or distract other learners!
We will be filming and taking photographs of the children in our workshop. By registering a child's attendance at this workshop, parents/guardians grant Coding Workshops for Kids a perpetual licence to use the student's work, photographs or videos of the student, and other materials for purposes such as publicising or promoting our workshops/events and the students' accomplishments on Coding Workshops for Kids' website or on our partners' websites.
---
FAQs
My child is new to computer programming or coding. Will they be OK to follow the workshop?
Yes, the camp is aimed at children aged 7 – 16+ years plus with no experience in coding or programming skills.
How old should my child be?
We recommend from 7 – 16+ years plus.
We have enrolled, what do we do next?
A reminder email will be sent to you a day before the workshop with all the exact venue and classroom details.